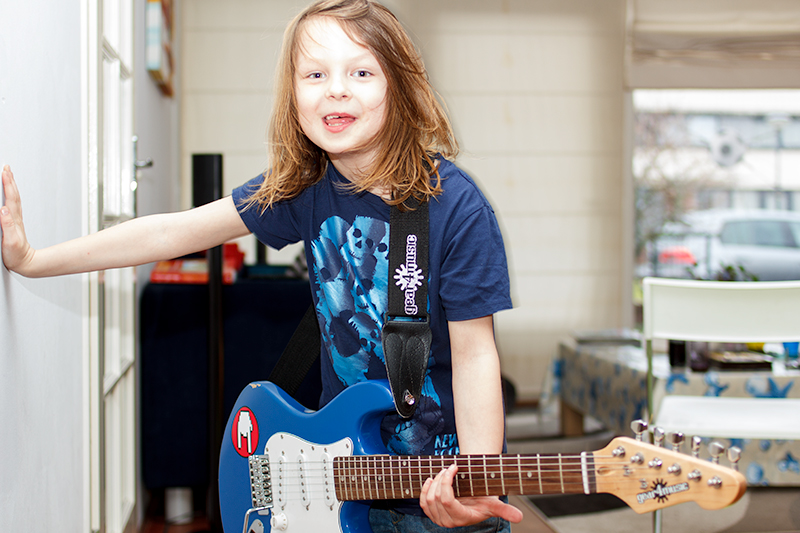 And with that sentence my nephew, Robin, wrapped up his guitar solo!
It has been a while since my last post, so it was about time to write another one. I was busy getting my bachelor degree. But now that I have it (yeey!) I can start practicing my photography skills again.
Meet Robin. Robin is only 7 years old but he's already the biggest rock star this planet has ever seen. 🙂 That includes long hair and matching t-shirts (preferably with skulls). 🙂 On his last birthday he got a blue electric guitar (the kid has taste) and brought it along for the weekend.
Although I haven't been shooting much lately, new hardware was added to my gear. The Canon EF 35mm f/2 and the Canon Speedlite 430EX II are now part of my collection and can be found in my bag.
When Robin decided to demonstrate some of his talent, I thought it would be a nice idea to grab my camera and make some photos using the (hot shoe) flash. All rock stars need some kind of spotlight to begin with anyway! It was also a good opportunity to see how the 35mm holds up.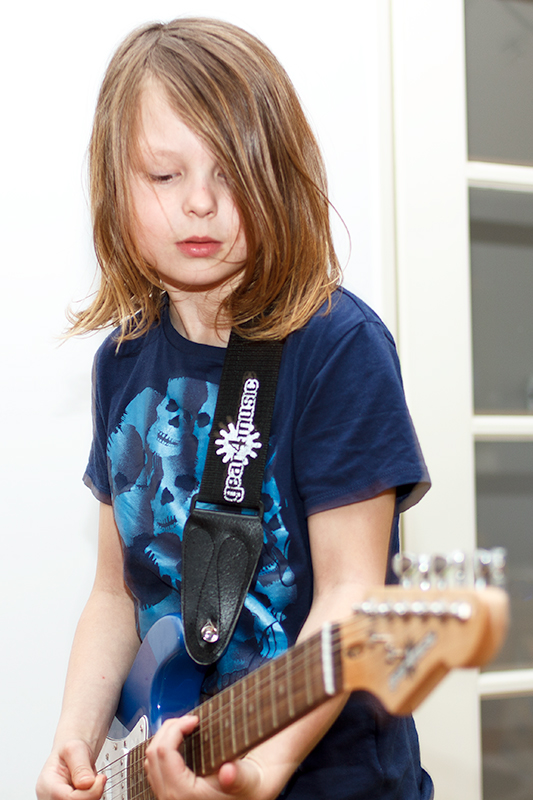 Like a real rock star he cranked up the volume and made some noise music. I started using the flash in ETTL mode. However after some shots I decided to set the flash to manual since the ETTL wasn't giving me the correct exposure I wanted. It turned out that I was so hypnotized by the music that I forgot to double check the ISO settings (thinking it was still set to Auto). So I ended up with the ISO set to 100 for all the pictures. And although I like the movement in some of the photos it would have been nice to have a couple where the image would have been completely frozen. 🙂
Unlike Robin, I still need some more practice. 🙂